Another question for your life story:
What is one of the love stories from your life?
Everyone has a love story in their life. Sometimes the love story is sad or even tragic. One of my uncles never married because his fiance died before they were married. Sometimes it is unusual and has a different twist to it. My parents almost didn't get together. My dad teased my mom and she didn't like him, but a ride in a
rumble seat
started their romance. Sometimes it is pretty much an ordinary love story. Boy and girl meet. Boy asks girl out. They date many times, become great friends, fall in love, get married, raise a family and live many years together. But most love stories have a lot of interesting details.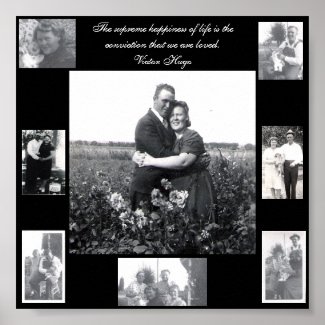 Love Story Poster
by
storykeeper
Find another
fine art reprint
Other love stories can be about the love of a parent for a child, the love of a child for a parent, the love of two friends, or the love of a pet cat or dog. Your life is probably filled with several love stories. Write down the stories about those you love and why you love them. Your love story will add a great deal to your life story.